It's that time of the year again! EDS UI's opening up slots for new recruits! So for those of you who have been hesitant to join EDS UI last year, and of course, for you freshmen, this is a chance of a lifetime you wouldn't want to miss.
It's fine if you're yet to be fluent in English, haven't been thinking critically, or if you're still having jitters when speaking in public. It's fine if you've never debated before. That's because we're going to habituate you with exactly those skills! If you're still uncertain of what you're up for, check out the "About EDS" tab in this website, then click on "How To Join". You'll find our recruitment video there where you'll find what our members, founders, and alumni have to say about our beloved community!
Just come to our headquarters in Pusgiwa (located behind Stadion UI, near Kutek; if you're taking bikun, stop at PNJ bus stop, Pusgiwa is less than 5 minutes walk from there!; if you're taking sepeda kuning, you can find a bike shelter right in front of Pusgiwa)!
During the 8-19 September, we will be welcoming you in our headquarters and interview you. Make sure you come during one of the weekdays, between 09.00-17.00. You get to choose when you'll be coming because our members will standby in Pusgiwa during those hours. The interview will only take about 10 minutes. Afterwards, we're going to ask you to write an essay based on the topic that we will inform you right after you have done your interview. The deadline for the essay is September 19, so the sooner you come for the interview, the longer time you'll have to work on your essay!
So, we'll see you in September future debaters!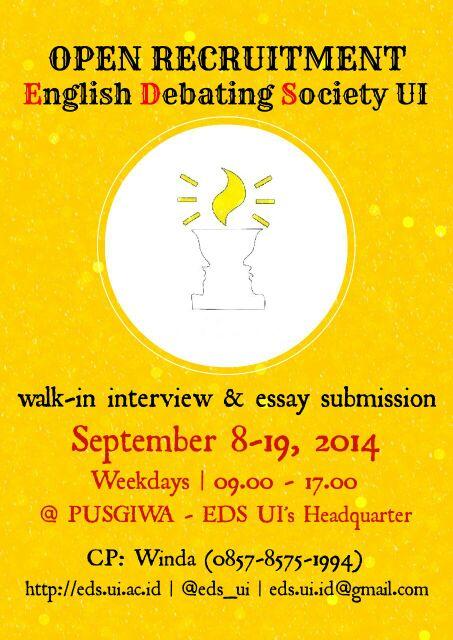 ps.
check out this link http://issuu.com/eds_ui and click on our Vol. 3 Newsletter to get to know EDS UI and parliamentary debating even deeper!
As usual, EDS UI sent our debating teams to compete in Java Overland Varsity English Debating championship 2014. This year it was held in Semarang by IKIP PGRI. Universitas Bina Nusantara came out as the champion and grabbed best speaker title this time.
EDS UI sent two teams; the first one consisting of Gabriel (F. Psi '12), Boy (FH '11) and Tanita (FH '11) and the second one Kristi (FH '13), Ibrahim (FISIP '12) and Monica (FISIP '13) as delegates. Two N1s were also sent, namely Malikah (FISIP '13) and Andri (FIB '13) .
The competition consisted of 6 preliminary rounds before elimination rounds begin. By the end of the preliminary rounds, UI A managed to grab 4 VPs and broke 6th, while UI B did slightly better by grabbing 5 VPs and broke 3rd. Unfortunately, the journey of UI A had to stop in octofinal when they were defeated by UNPAD. UI B, meeting SADHAR A this round, won the debate and proceed to quarterfinal. But their journey had to stop as well when they lost to UNPAD, who also defeated UI A in previous round, in quarterfinal. So no UI team continued their journey in JOVED. But we sure know that all delegates has done their best during the competition, which is clearly shown in the tabulation. Three of UI delegates stand as the Top 10 speakers. Kristi Ardiana is the 3rd best speaker, followed by Gabriel and Ibrahim as co-6th best speaker, and Boy Al Idrus as 10th best speaker. Malikah also managed to position herself in the breaking adjudicators list and she went on to adjudicate the Novice Semifinal round. The others managed to perform very well and place themselves as the Top 20 speakers. Nevertheless, we are very proud of their achievements!